Boys Who 'Sit and Stare'... and Future Engineers!
By Heather Idoni
Added Monday, January 25, 2010
==========================================================
Vol. 11 No. 7, January 25, 2010, ISSN: 1536-2035
==========================================================
© 2010, Heather Idoni -
www.FamilyClassroom.net
==========================================================
Welcome to The Homeschooler's Notebook!
If you like this newsletter, please recommend it to a friend!
And please visit our sponsors! They make it possible.
~~~~~~~~~~~~~~~~~~~~~~~~~~~~~~~~~~~~~~~~~~~~~~~~~~~~~~~~
"Marie Rippel, the creator of All About Spelling, has written
step-by-step lesson plans that are easy to understand. I love
this! There have been a number of things I wish to teach my
daughter, but preparation and research has got in the way.
Sometimes there is just not enough time between all the dishes
and laundry for that kind of thing! So I really appreciated
this program being simple for me to implement." -- Stacie
~~~~~~~~~~~~~~~~~~~~~~~~~~~~~~~~~~~~~~~~~~~~~~~~~~~~~~~~
=================
IN THIS ISSUE:
=================
Notes from Heather
-- Please Talk to William...
Helpful Tip
-- Young Engineers
Resource Review
-- Raising Real Men
Reader Question
-- Books for Boys?
Additional Notes
-- Newsletter Archives
-- Sponsorship Information
-- Reprint Information
-- Subscriber Information
=======================
Notes from Heather
=======================
Thought for the Day: Some Encouragement for Boy-Moms
---
Overheard on our Gifted Group --
"My mother-in-law used to keep a note from my husband's
second grade teacher taped to his PhD thesis. The note read,
'Please talk to William. He just sits and stares'." -- Debra
---
Do you have comments to share? Please do!
Send your emails to: mailto:heather@familyclassroom.net
================
Helpful Tip
================
Encouraging Young Engineers
---
Homeschooling dad, Jim McGinn shared some great resources
with a member of our HomeschoolingBOYS group this past week.
Here was Jennifer's question...
"I have a 7 year old who is an engineer in the making. He wants to
take apart toys and make them better. He has a plan book full of
ideas and drawings. I want to encourage him as much as possible.
It is hard to find things for him to take apart and build. Anyone
have ideas or suggestions for me to help him?" -- Jennifer

And here was Jim's answer...
"Here are a couple of great opportunities.

Your 7 year old may be a bit young for this yet, but in a year or
two, and for those raising engineers who are 9 or 10 or older,
you can get great small robotics kits at Solarbotics. They
are in Canada, but they ship all over the world. The kits are
electronics/robotics kits. They require soldering, which is why
the older age recommendation.

I have known the owners for many years, and my son sells their
kits at home school shows, and we have built a number of their kits.
The kits are very good. They have excellent quality instructions
(better than many kits), and they have great service. (If you order
from them, tell them you heard about them from me.)

ALSO, Autodesk lets schools use their programs for free, and they
now let home schoolers use them, also. Their programs include AutoCAD,
Autodesk Inventor, and over 20 other programs worth tens of thousands
of dollars. These are professional engineering tools. If you have any
children who are interested in engineering, I highly recommend you get
in on this, as it will give them excellent training. This is an awesome
opportunity they are giving us."

-- Jim McGinn, http://www.homeschool-guide.com
---
Do you have an idea, experience, or tip to share? Please write!
Send to: mailto:HN-ideas@familyclassroom.net
==================
Resource Review
==================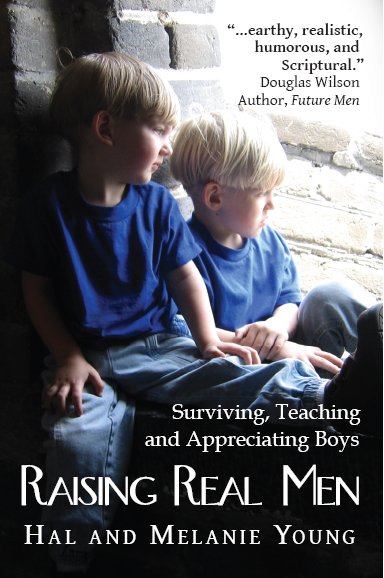 Raising Real Men by Hal and Melanie Young
For More Info or to Order: http://www.RaisingRealMen.com/orders/
---
Raising Real Men should be a regular bed-side read. The practical
advice on raising godly young men is such a great reminder! Mothers,
particularly, need to read this book. There is so much we need to
understand about our boys' differences -- and understanding those
differences is crucial to their growth and character development.
I loved what married-team authors Hal and Melanie Young emphasized
regarding the importance of our training to evoke positive character
growth:
"It may seem that much of the discipling process is a negative action,
to stop misbehaviors. If that's all it is, we're missing the duty
to protect, develop, and strengthen the confidence and leadership
skills of our sons. We need to consciously seek opportunities to
stretch and train them for future service."

Addressing topics such as handling 'adventure and recklessness',dealing
with mixed content on TV, handling money, teaching manners and so much
more, the Youngs offer a solidly-written handbook for parents who
desire to raise godly men.
Raising Real Men is highly recommended by Teaching Good Things!

-- Kathy Brodock, www.TeachingGoodThings.com
---
Note: You can still get a FREE Sugar Creek Gang audio story with
your purchase of Raising Real Men!
~~~~~~~~~~~~~~~~~~~~~~~~~~~~~~~~~~~~~~~~~~~~~~~~~~~~~~~~
Living Gluten-free Casein-free is a comprehensive resource that will
help you in your quest to live gluten-free. Perfect for individuals
who are either gluten-free or gluten-free/casein-free, Living Gluten-free
Casein-free contains valuable resources to help you succeed with your
new gluten-free lifestyle. Living Gluten-free Casein-free is the only
GFCF menu plan written by a practicing nurse practitioner.
Living Gluten-free Casein-free includes a month of gluten-free menus
and lessons about living gluten-free.
~~~~~~~~~~~~~~~~~~~~~~~~~~~~~~~~~~~~~~~~~~~~~~~~~~~~~~~~
===============================
Last Issue's Reader Question
===============================
"Our 13 year old son is reading at college level. I am constantly
struggling to find him books that capture his interest. Is there
a boy-friendly book list that I can keep him supplied with? Thank
you!" -- Gayle in Alabama
=========================
Our Readers' Responses
=========================
"It's very hard to find books for boys, I know. My son is almost
12 and now frequents the library's 'Young Adult' section, which is
horrible (to him and to me!) –- it's nearly all 'girlie' books,
twaddle, and manga.
The Jon Scieszka site, Guys Read (all ages), is helpful.
Also, we're Christians, so my son has been reading adult fiction
from Christian novelists such as Ted Dekker and Frank Peretti.
I would ask your librarians if you haven't already. If they don't
have decent books for your son to read, then request they purchase
some that he (and others) would like. I'm constantly requesting
books and multimedia at our library.
Has he tried reading the classics? He may have read some for
literature assignments, but he might like reading them for fun,
rather than education." -- Julie in Illinois
---
"Books by G.A. Henty have got to top the list -- and there are over
80 still in print so that would keep him busy for a couple of months
at least. If you can find them, he might also like the Tom Swift
series. There is a series by John White (the first is called The
Sword Bearer) that he might enjoy if he liked the Narnia series and/or
The Hobbit. One place I've seen mentioned for books for boys is
http://booksandboys.blogspot.com/ I haven't read any of this author's
books yet though." -- Laurie
---
"If your son likes history, he might like G. A. Henty novels. They
are very 'boy' oriented." -- Lori
---
"Gayle, you might check out Vision Forum, Mantle Ministries and
Lamplighter Publishing. Those ministries have great literature,
much of it geared to boys. My son enjoys anything by Jules Verne,
and he likes the G.A. Henty historical novels from Vision Forum. It
depends a lot on your son's areas of interest, but there are lots
of great books out there!" -- Mary Beth
---
"Try the G.A. Henty books." -- Tari in TX
=========================
Answer our NEW Question
=========================
"I was wondering if anyone has any recommendations for volunteer
opportunities for homeschoolers. My oldest is 12. I am looking
for right now and in the future. Please share good and bad experiences.
We want to know things you are glad you did... things you would never
do again; we are willing to learn from your mistakes." --
Christina
---
Do you have an experience you can share with Christina?
Please send your email to: mailto:HN-answers@familyclassroom.net

=====================
Ask YOUR Question
=====================
Do you have a question you would like our readers to answer?
Send it to mailto:HN-questions@familyclassroom.net and we'll see
if we can help you out in a future issue!

=======================
Need Immediate Help?
=======================
Visit our Homeschool Encouragement Center! This is a live 24/7
'chat' area where you can talk with our homeschool counselors
by typing in a box. When you get there, just introduce yourself
and let them know that Heather sent you!
This ultra-safe chat is supervised by experienced moms who are
there to serve and share their wisdom... or just offer a listening
ear and encouragement.

==============================
Subscription Information
==============================
Here is the page where you can subscribe to all of our newsletters!
http://familyclassroom.net/screensubs.html
And here is our searchable archive of recent newsletters:
http://www.familyclassroom.net/archives.html

===========================
SPONSORSHIP INFORMATION
===========================
There are opportunities for your business to be a sponsor of this
newsletter! Read more about our VERY AFFORDABLE advertising here:
http://www.homeschooladnetwork.com/homeschoolersnotebook.php

=====================
ADDITIONAL NOTES
=====================
All contributed articles are printed with the author's prior
consent. It is assumed that any questions, tips or replies to
questions may be reprinted. All letters become the property of
the "Homeschooler's Notebook". [Occasionally your contribution
may have to be edited for space.]
Again, I welcome you to the group! Feel free to send any
contributions to mailto:HN-articles@familyclassroom.net or
mailto:HN-ideas@familyclassroom.net.
Our main website is:
http://www.familyclassroom.net
We also sponsor an incredible site with over 1,500 pages of helps!
http://www.easyfunschool.com

===========================
REPRINT INFORMATION
===========================
No part of this newsletter (except subscription information
below) may be copied and/or displayed in digital format online
(for instance, on a website or blog) without EXPRESS permission
from the editor. Individuals may, however, forward the newsletter
IN ITS ENTIRETY to *individual* friends (not email groups). For
reprints in paper publications (homeschool support group newsletters,
etc.) please direct your request to: mailto:Heather@FamilyClassroom.net