Bible Study - Rationale, Resources & Recommendations
Added by Heather Idoni
Monday, January 20, 2014
==========================================================
Vol. 15 No. 2, January 20, 2014, ISSN: 1536-2035
==========================================================
(c) 2014, Mary Beth Akers and Heather Idoni
==========================================================

Welcome to The Homeschooler's Notebook!

If you enjoy our newsletter, please share it with a friend!

http://www.familyclassroom.net

~~~~~~~~~~~~~~~~~~~~~~~~~~~~~~~~~~~~~~~~~~~~~~~


The Olympics are fun to watch, and they can be educational too!
Download Knowledge Quest's FREE Olympic Country Report today
so your kids will be ready to learn as they watch!



~~~~~~~~~~~~~~~~~~~~~~~~~~~~~~~~~~~~~~~~~~~~~~~
=================
IN THIS ISSUE:
=================
Notes from Mary Beth
-- Time in God's Word
Winning Website
-- Bible Printables
Helpful Tips
-- Bible Study Tips
This Issue's Question
-- Family Bible Time?
Additional Notes
-- Newsletter Archives
-- Sponsorship Information
-- Reprint Information
-- Subscriber Information


======================
Notes from Mary Beth
======================

Life can sometimes be a puzzle. In fact, it can present some quite serious problems. If we don't teach our children anything else, we must prepare them to be able to handle day-to-day struggles. We do more than just raise small people into grown-ups; we guide them into their futures, much of which is dependent on how they build their lives from moment to moment.

The foundation for this "building", and the answers to the puzzles, are found in the Bible. The time you spend studying the Bible with your children is an investment in their futures as adults, and possibly in their eternities.

We are currently taking care of 190 cows. We must check them several times a day to make sure they're doing okay. Likewise Solomon exhorted his reader to diligently be aware of the condition of his flock. (Proverbs 27:23) When we regularly discuss spiritual issues with our children, their misconceptions and faulty reasoning become readily apparent, as do their accurate understanding and growing maturity.

Daily Bible study accomplishes this and so much more. It helps you and your children to clearly define your beliefs and firm up your convictions, enabling them to defend those beliefs and have the confidence and courage to do so. It helps to develop character and establish a value system. Bible study offers certainty and stability in an increasingly uncertain and unstable world.

The Bible provides answers for day-to-day issues! For instance, if you've thoroughly discussed Philippians 2:3-4, you will have a huge head start on resolving conflicts that arise later.

When your children leave home, the time you spent in the Word of God will be the heritage they take with them, along with strong family bonds, rich memories and a powerful prayer life. If your family is already conducting daily Bible studies and/or family worship, I encourage you to continue what you're doing. If you need a little help getting started, I hope the tips and resources below will be helpful for you!


-- Mary Beth


~~~~~~~~~~~~~~~~~~~~~~~~~~~~~~~~~~~~~~~~~~~~~~~

Now through February 28th - use these great coupon codes at Bright Ideas Press!

$5 off any purchase of at least $25 with code fiveoff
$10 off any purchase of at least $50 with code tenoff
$15 off any purchase of at least $75 with code fifteenoff

Check out all their great products (including MYSTERY OF HISTORY) here:

Bright Ideas Press


~~~~~~~~~~~~~~~~~~~~~~~~~~~~~~~~~~~~~~~~~~~~~~~
=================
Winning Website
=================
Joyful Meditations Printable Bible Activities

When you search for children's Bible activity and coloring pages online, what you find is mostly a lot of "fluff". In contrast, this offering of activity pages, originally created by Calvary Chapel's children's ministry, is a treasure trove!

You will find a huge selection of 325 PDF printable activities, each with something suitable for all ages! Each link has a coloring page and also question/answer/fill-in-the-blank, crossword and fun word search activities. Also -- they aren't based only on the most well-known Bible stories. For instance, here is the PDF for "Ruth Chooses to Stay with Naomi":

www.joyfulmeditations.org/downloads/kids/worksheets/calvarychapel/en/ot/curr067.pdf

There is also info about requesting a FREE hard copy CD to be able to print pages without going online!

-- Heather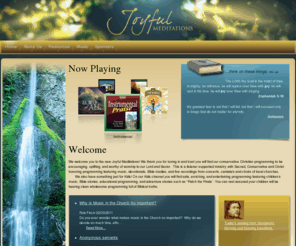 ==============
Helpful Tips
==============

The Bible is a miraculous Book. It is always age-appropriate, and comes with free full-time support -- The Holy Spirit! (John 14:26). Whatever our circumstances or level of spiritual maturity, the Holy Spirit will reveal what is needed and what we are capable of comprehending at that point in our lives. Unlike other books, each time we read through it, we will discover something new, find new and deeper meanings in familiar passages, and/or learn another way to apply them. The Bible is its own commentary. The more we read it, the clearer it becomes!


There are multitudes of approaches to Bible study --

3+3 Method: (Adapted from a message by George Sarris) Everyone has a Bible and three bookmarks. Divide the Bible into three sections -- the New Testament; Psalms and Proverbs; and the remainder of the Old Testament. Start with Genesis 1, Psalm 1 and Matthew 1. Decide how much time you'll spend. Read a verse or short passage, discuss it, read the next verse, discuss it and so on. Stop at the end of your allotted time. It might take you several days to get through a chapter; at other times, you might get through three or four chapters in one session. When you finish Genesis 1, read Psalm 1, then Matthew 1, then Genesis 2, Psalm 2, Matthew 2, etc. When you finish Proverbs 31, start over with Psalm 1; when you finish Revelation 22, start over with Matthew. Repeat at least until you have finished the Old Testament, and then continue repeating as often as you like.

It took us about two years to get throught the Old Testament once, and during that time we made it through Psalms and Proverbs four times and the New Testament three times. You can divide the reading as you wish. Non-readers can memorize one of the verses ahead of time to recite.

Chronological Reading: Download a chronological Bible reading schedule from one of the sites mentioned above, and follow it. It is fascinating to read the Psalms of David in parallel with the events of his life, or the letters of Paul corresponding to the history of the Church in Acts. Reading the Bible as a chronological story can provide insights that might otherwise be overlooked.

Topical, Character or Book Study: Choose a topic, a person in the Bible, or a book of the Bible, and study it in depth. You might need some resources such as a Chain Reference Bible to help you find all the passages pertaining to a specific topic or person.

Foundational Plan: The following schedule is adapted form Tim LaHaye's recommendation to help young believers get the basics under their belts before tackling some of the more difficult Bible chapters. Note that "reading" should include discussion, and perhaps journaling. Depending on how much reading you do each day, this schedule will probably take you about three years to complete. You can find a more thorough explanation of this approach in "How to Read the Bible for Yourself" by Tim LaHaye. Read 1 John seven times. Read the Gospel of John twice. Read the Gospel of Mark twice. Read the short letters of Paul -- Galatians through Philemon Read Luke, Acts, and Romans Read the entire New Testament twice. Read the books of Wisdom/poetry -- Job through Song of Solomon Read 1 John, Ephesians, Philippians, Colossians, 1 Thessalonians, James, Romans chapters 5-8 and John chapters 14-17 Read the entire Bible, alternating one New Testament with four Old Testament chapters.

General recommendations

Try to do your Bible study every day and at the same time every day. If you have guests in your home, invite them to join you. Turn off all phones and electronic devices.

Begin and end with prayer.

If little hands cause distractions, give them something to do. Some children listen better when their hands are busy! They can illustrate something you're studying by drawing it, or using play-dough, Wikki sticks or chenille stems. You can find coloring sheets online -- like those at our "Winning Website" above. Involve them in the discussion as much as you can. You can give them specific details to listen for before you start. For example, before you read Psalm 58, tell them to find out what wicked people are compared to.

Journaling and/or note-taking is very helpful. The journal can be pictures for younger children or those whose writing skills are limited. Lapbooks make great notebooks for all ages. (I plan to feature lapbooks in a future newsletter.)

BIble study helps and commentaries are valuable tools, and your children need to know how to use them. But be cautious. Remember that their authors are fallible, and they should never carry a higher authority than the Word of God.

If you are interested in a commercial Bible curriculum, we used New Tribes Mission's "Firm Foundation" series. The revised edition is much more pricey. Unless you want the DVD and all the twinkies, you might look for a used older version!

Answers in Genesis has a relatively new Bible curriculum. I haven't used it, but like what I have seen. It is age-specific, so if you have a wide age range, you might need more than one kit. You can see samples at AnswersBibleCurriculum.com.

For Bible reading schedules, the following might be of interest:

www.biblegateway.com/reading-plans

And this site allows you to choose your preferred Bible version, the type of plan you want to follow, and the start date. It even has foreign languages!

Read the Bible in a Year


-- Mary Beth


=====================
New Question...
=====================
"How does your family conduct Bible time? What challenges have you encountered, and how do you deal with those? What benefits have you enjoyed from family Bible studies or family worship?"

Please share your thoughts!! :-)

Simply reply to this email or create a new email message and send to: hn-answers(at)familyclassroom.net
---


Do YOU have a question to ask our readers? :-)
Please send to: hn-questions(at)familyclassroom.net
==============================
Subscription Information
==============================
Here is the page where you can subscribe to our newsletter:
http://www.familyclassroom.net
And here is our searchable archive:
http://www.familyclassroom.net/archives.html
===========================
SPONSORSHIP INFORMATION
===========================
There are opportunities for your business to be a sponsor of this newsletter! Read more about our VERY AFFORDABLE advertising here:
http://www.homeschooladnetwork.com/homeschoolersnotebook.php
=====================
ADDITIONAL NOTES
=====================
All contributed articles are printed with the author's prior consent. It is assumed that any questions, tips or replies to questions may be reprinted. [Occasionally your contribution may have to be edited for space.]
Feel free to send any contributions to: HN-ideas(at)familyclassroom.net.
Our main website is:
http://www.familyclassroom.net
===========================
REPRINT INFORMATION
===========================
No part of this newsletter (except subscription information below) may be copied and/or displayed in digital format online (for instance, on a website or blog) without EXPRESS permission from the editor. Individuals may, however, forward the newsletter IN ITS ENTIRETY to friends or groups via email. For reprints in paper publications (homeschool support group newsletters, etc.) please direct your request to: Heather(at)FamilyClassroom.net.